We've all been there. You climb past the bolt, approach the crux and suddenly your legs start shaking. Not because your legs aren't trained, but because you are secretly scared of falling! Your mind tells you: "Don't go any further, or you will die!"
The fear of falling is quite natural. It protects us from recklessness and gives us a sense of self-awareness. So just ignoring your fear isn't going to help, especially because you will have to confront it over and over again, which can quickly become frustrating. So now you know the problem, what is the solution?
Falling is the solution!
Say what?! Does that mean I should purposely bring my body and psyche back into a situation that I feel so uncomfortable with? Yes! This is the best way to learn how to deal with your fear, avoid dangerous mistakes and to prepare for a "real" fall. Catching is also a very important skill for a belayer to learn.
Fall training level 1 – the slow approach
The best place for fall training is the gym. You can choose the route (preferably slightly overhanging) and plan the distance of the fall itself. You can start with small falls and move on to bigger falls as you build up your confidence. Try taking your first fall from the fifth draw and build on that – falling from a little higher above the draw each time. When falling, it is important to take your hands and legs away from the wall and not cling to draws, holds and definitely not the rope. This helps avoid unnecessary injuries. Fall training also gives your belayer the chance to learn more about their climbing partner and how they fall. Some climbers prefer short (and possibly hard) falls, whilst others prefer longer and softer falls/catches. Your belayer will quickly learn where to stand in proximity to the wall. You might also want to consider a second (experienced) belayer when you first start your training. They are basically a "backup brake hand" behind the belayer, in the case that the belayer makes a mistake.
Fall training level 2
Once your psyche has become used to falling, you can move on to the next level. In level 1, you warn the belayer before you fall – you will skip that in level 2. Of course, the belayer should always be ready for a fall, but a warning makes it easier for beginners. So, at level 2, there is much less communication – just climbing and falling. You just climb and fall whenever you feel like it (from a safe height of course), which will help you get used to falling and help your belayer deal with sudden catches.
Fall training level 3
Even the best training is no use if you don't do it regularly. Practice makes perfect! Ideally, in level 3, you will approach a route without fear of falling – you just fall whenever you need to. You have the confidence to rely on yourself and your partner and you can climb at your limit.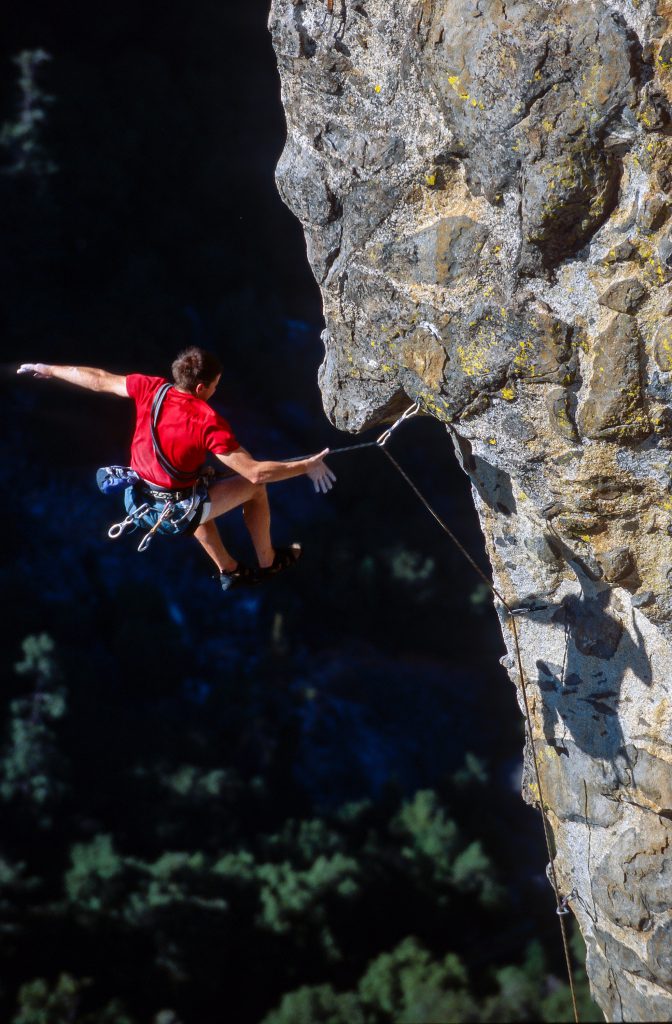 Never forget that climbing outdoors is always different. You might feel like a "pro faller" and still find yourself shaking on an exposed edge somewhere in the Alps, where the last draw is around the corner and you can no longer see your partner… but at least you will be prepared.
Fall training is an important skill! You can train your reflexes and iron out mistakes through regular practice, which can be lifesaving in a dangerous situation. Because if you do have to fall, falling is everything!
Have fun out there and be safe!