PowerFingers – Finger and wrist extensor trainer
Why PowerFingers?
Rock-climbing tends to shorten the flexor muscles and increase muscular tension, whereas the finger and wrist extensors are often left weak and untrained, causing injuries such as tennis elbow (medial epicondylitis), which can take up to six months to recover from.
Antagonist training with PowerFingers trains both the finger and wrist extensors and should be an essential part of any rock-climbing training plan.
About PowerFingers
Exercise and warm-up all with one system! PowerFingers is lightweight and portable. Each set includes all 5 rings in a case. Resistance is virtually unlimited, up to 125 Multiple Power stacking potential. Ideal for Students, Teachers, Coaches, Amateurs and Professionals.
PowerFingers are latex-free. PowerFingers are delicate enough for intricate finger exercises and robust enough for strength training.
Five coloured discs, five resistance levels:
Level 1: LIGHT GREY
Level 2: GREY
Level 3: DARK GREY
Level 4: BLUE
Level 5: PURPLE
Flexion and extension in one tool!
Antagonistic training:
In grip dominant sports it is essential to stretch and even out your finger and wrist flexors by training the opposing muscles and your finger and wrist extensors.
For best results keep your wrist cocked to lengthen and stretch your dominant forearm flexors whilst strengthening your wrist. If you can't straighten every finger when extending you need to use a lighter band.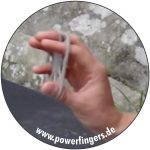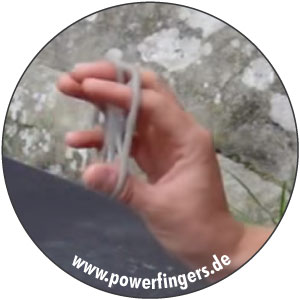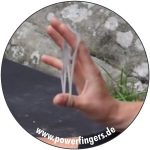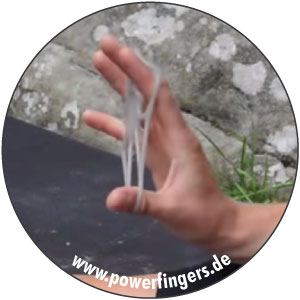 Warming up and strengthening:
All of these exercises are good for warming up and this one is particularly good for getting ready to pull. Each finger can be worked individually to increase strength and gently rehabilitate injury if necessary.
Hold a combination of bands in one hand with 3 fingers and pull downward and outward with a single finger on your other hand.
Pinches:
By creating resistance between the thumb and little finger, pinch strength can be developed.
Place the band on the back of your hand with your fingers and thumb in each hole, turn your hand around and try to stretch your thumb to your little finger.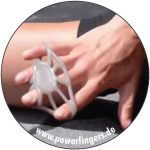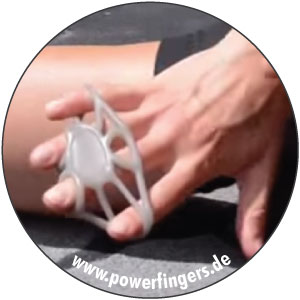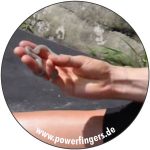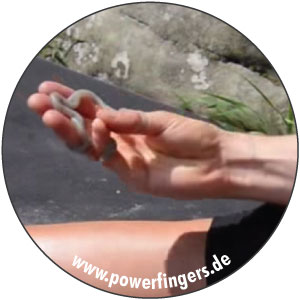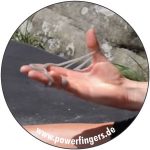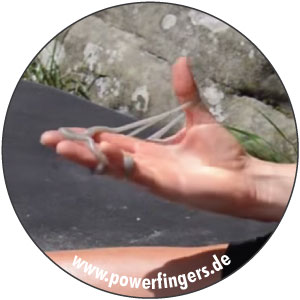 Rehab:
You may find it harder to straighten one finger more than others. This could be due to an old or current injury.
You can double up the band and use different resistances for different fingers to ensure you maintain the perfect form.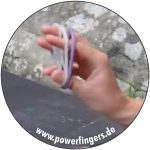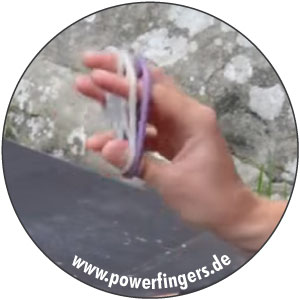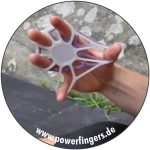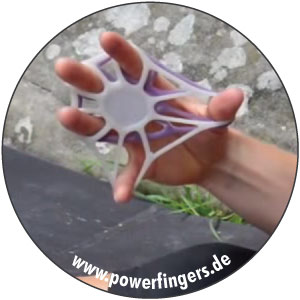 Important:
If you feel any pain, stop using PowerFingers and consult a doctor/physical therapist.