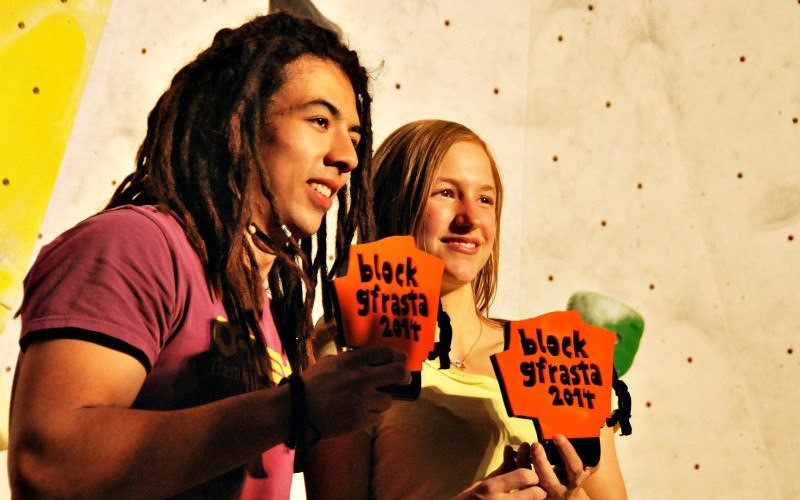 On the 30th April 2014 the exciting block gfrasta final took place in the boulderbar in Vienna. Among the 204 participants, Wanda Glück and Mauro Schwaszta swooped in an one the trophies – congratulations!

What is block gfrasta
"Block" is a short version of the German word "Felsblock" which means boulder in English und "Gfrast" is slang in Vienna for wild dog, cheeky brats and larrikins. That sets the tone for block gfrasta: a unique bouldering contest where the strongest can go wild!
Can anyone participate in block gfrasta?
In principle, yes. In "der Kletterei" in Klosterneuburg and "der boulderbar" in Vienna there is a dedicated bouldering area for the competition (from grade 5a to 8a+). During the 5 weeks of qualification, all participants can have a go at the problems and try to master as many as possible. The results can be recorded on a score card and entered into the online datebase, so you can see your own ranking.
The best ranked participants can participate in the final qualification.
The Final
In the final qualification (Jam Session) all 12 problems must be solved. For each flash, you are awarded 5 points, for each second attempt 3 points and for a third attempt 2 points. The 8 best Gfrasta will participate in the final.
The Final has 4 problems, that have to be solved within 12 minutes.
Regardless of the number of attempts, finishing a route scores 5 points and an additional 3 points if it is flashed.
The 3 best Gfrasta qualify for the Super Final. If there are participants with the same number of points, the scores from the qualification will be used.
In the Super Final the atmosphere was tense. A single deciding boulder. The walls in the boulderbar shook as Wanda and Mauro did the impossible and reached the upper echelons!
Are you from Vienna? Block gfrasta is coming again next year – come and participate! Who was there at the final? What did you enjoy most?
http://www.block-gfrasta.at/de