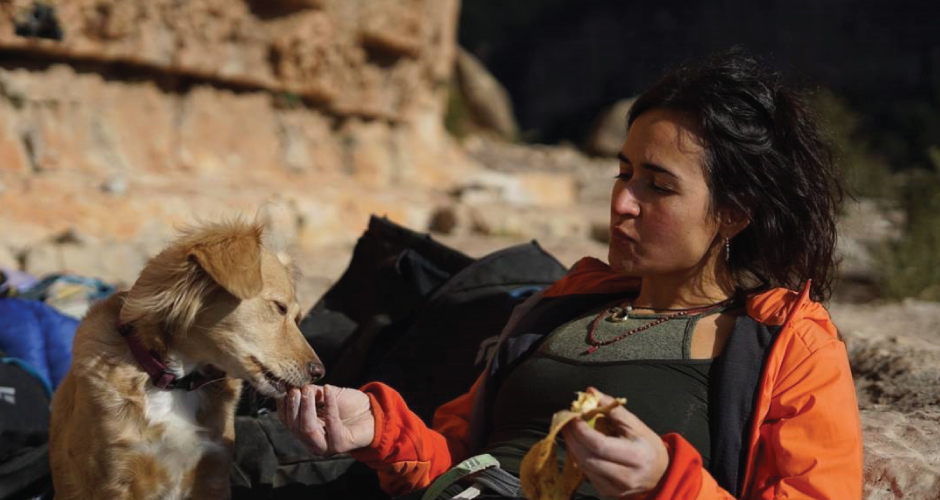 As you know, different forms of climbing require very different levels of energy and physical condition. Your physical condition coupled with your expectations for the day (relaxed climbing vs. going all out to send a project), your specific dietary requirements and your metabolism can be hugely impacted by what you've been eating! In part two of our three-part blog series, climbing dietitian Anabel gives us some tips on how to power through a day of sport climbing.
The first decision to make is what type of food you are going to eat and when you're going to eat it. This is important because if you choose to eat slow-digesting food in a short break, it may result in a heavy stomach and interfere with your climbing. If this is regularly repeated, your intestines could even be damaged by interrupted digestion, which can lead to intestinal hypoxia and eventually even permeable bowel.
Therefore, during short breaks, the best type of food is fresh fruit – dried fruit is also suitable, but often contains added sugar. You could also supplement your fruit with a small portion of carbohydrates which is digested slower than fruit. I like to bake healthy homemade cake (see the recipe below) for a day at the crag.
During long breaks, you should focus on protein, healthy fats and a good serving of vegetables. I recommend homemade protein bread, avocado, nuts, carrots or homemade sponge cake, made with nut flour for more protein and energy.
Whenever you can, try to prepare homemade food instead of buying processed products and if that's not possible, try to choose healthy options.
Whatever you choose to eat at the crag, please remember that hydration is very important and can be a deciding factor when it comes to preventing injuries.
Here is one of my favourite healthy recipes to spice up your day at the crag:
Paleo banana and chocolate cake
Ingredients
– 4 small, ripe bananas
– 4 organic eggs
– 100g coconut oil
– 125g almond flour
– 60g coconut flour
– 1 tablespoon baking soda
– 2 tablespoons baking powder (gluten free)
– 1 teaspoon ground cinnamon
– 60g dark chocolate (I prefer 90% cocoa)
Method:
– Preheat the oven to 180º C and grease the baking tin, or line it with baking paper
– Mash/blend the bananas and mix in the eggs and oil
– Mix the flour, baking soda, yeast and cinnamon in a separate bowl
– Add this mixture to the mixing bowl / blender and mix well (if the blender is not very powerful you will have to add it little by little and it may even be necessary to add a little vegetable-based milk)
– When the dough is well mix, add the chocolate (if it is a block, cut it into very small pieces) and mix it manually with a fork
– Pour the mixture in the cake tin and bake for about 45 minutes to 1 hour, until it is golden and well done inside (at 45 minutes do the stick test)
– When ready, let cool at least 15 minutes before eating, but ideally a little longer so you can cut it without breaking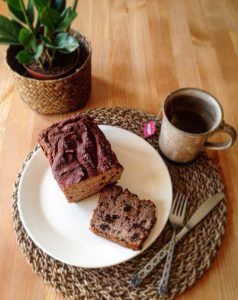 You will find more recipes on my Instagram account @anabelrool