Our beloved gyms are slowly allowed to start reopening their doors under certain, strict conditions.
In order to support the gyms and motivate you to train hard, we are running a campaign, #supportyourlocalgym, together with our partners Edelrid, Deutscher Alpenverein e.V. (DAV), Bergzeit, Vertical-Life and SuddenRush Guarana Deutschland.
How can you help support your local gym?
Easy! Just use the hashtags #supportyourlocalgym, #your local gym's hashtag, #edelridclimbing, #bergzeit, #deutscheralpenverein, #verticallife, #suddenrushguarana, #kletterretter, #teamseil when you post your training photos. Every post helps to support your local gyms!
What's even better? By using these hashtags by the 31st of May 2020, you automatically enter the draw to win 1 of the 10 KletterRetter training packs we are giving away*
The gyms are also using these hashtags to show you how they are preparing for the reopening.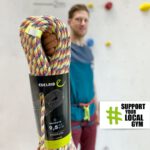 Are you looking for a new rope? The Deutschlandseil symbolises the solidarity of the German climbing community. Proceeds from every rope sold by one of the Edelrid partners, Bergzeit and DAV are put towards a fund to support local gyms. Gyms can apply at Edelrid for aid and 5 gyms will be selected to share the proceeds of this fund.
Stay safe!
We're all in this together!
*Terms and conditions
To enter the draw, you just need to use the above hashtags in a publicly visible post by the 31st of May 2020. The 10 lucky winners will be chosen at random.
KletterRetter UG (limited liability) is solely responsible for this competition
This competition is not connected in any way with Instagram and is not supported, sponsored or organised by Facebook or Instagram
There is no legal recourse; cash payments are excluded
To participate you must be 16 years old at the time of entering
Multiple entries from the same user will be judged as a single entry
Each of the 10 winners will one of 10 KletterRetter prize packs (1 x KletterRetter handcream 75ml, 1 x KletterRetter repair balsam 30ml, 1 x KletterRetter liquid chalk 200ml, 1 x KletterRetter creme chalk 150ml, 1 x KletterRetter finger massage ring, 1 x SmellWell shoe freshener).
The winners will be notified via Instagram or Facebook message on the 1st of June 2020
Any prizes that are not claimed within 14 days will be awarded to another participant
Address data will only be collected from the winners and will only be used to send the prizes. The participants are entitled to legal information, change and cancellation rights.