Description
The reusable KletterRetter mask is perfect to keep you looking great throughout the times of mandatory face masks!
You can easily adjust the length of the elastic band and the reusable mask can be washed at 60 degrees celsius.
• Material: 100% polyester
• Approx. 20cm x 10cm
• Adjustable nose clip
• Washable at 60 degree celsius
• Can be used with a tissue as an insert
Size:
S-M (adjustable): Earlobe to nose-tip less than 16cm
L (nicht verstellbar): Earlobe to nose-tip more than 16cm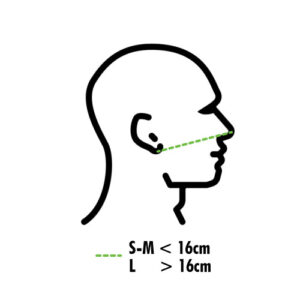 Every purchase of a KletterRetter mask helps support local companies and tailors overcome the crisis.
Important information
This mask is for private use. If the mask becomes wet, it will need to be washed. Wash your hands and your face before and after use.
This mask is not certified and is not suitable for medical use, nor is it Personal Protection Equipment (PPE).